Accessible Alabama works to increase accessible housing options in communities for people with disabilities and those facing growing limitations as they age.
We engage public, private and non-profit sectors to help our communities step up to meet current accessible housing needs and prepare for the accelerating demand as the aging population grows.
Our areas of focus:
educating the general public and community leaders so they can be proactive about accessible housing needs and the coming demographic shifts that impact communities
connecting needs of people with disabilities, housing development stakeholders, and principles of Universal Design;
promoting innovation and technical assistance in accessible design
informing Alabama's public agencies, policies, and community decisions with best practices and successful models from other states;
Meet Our Staff
Eric M. Peebles, PhD, CRC – Executive Director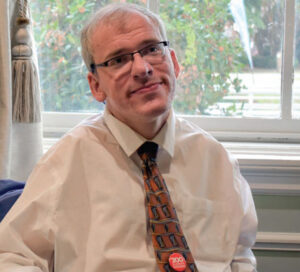 Dr. Eric Peebles has serve as Executive Director of Accessible Alabama since cofounding the organization in 2013.
In addition to his role as Executive Director, Eric currently serves on the Board of Directors for the Disability Leadership Coalition of Alabama and was elected co-chair in October 2017. Eric is also a member of the Board of Directors for Alabama Select Network, the organization formed to oversee the transition of Medicaid long-term care services in Alabama to a managed care model. In his role with Alabama Select, Eric chairs their Consumer Advisory Committee (CAC). Also in this position, Eric is the chief consumer advocate for individuals receiving Home and Community-Based Waiver Services managed by the organization throughout the state.
Eric has previously served on the Board of Directors for the Alabama Healthcare Advantage Medicaid Regional Care Organization for the Auburn-Montgomery Area. A graduate of the PhD program in rehabilitation at Auburn University, Eric served the Department of Special Education, Rehabilitation and Counseling in a variety of research and direct instruction roles from August 2010 to 2018.
As a person with a disability, Eric integrates his professional skills with a first-person viewpoint on the needs of persons with disabilities. Eric has spastic cerebral palsy because of an oxygen deprivation during birth. This trauma has severely limited his motor skills to the point of functional quadriplegia. Fiercely independent, Eric has spent his life seeking ways to live independently and to live as close to a "normal" life as possible.
As Executive Director for Accessible Alabama, Eric oversees all administrative functions of the organization and has helped the organization to secure more than $750,000 in grants and contracts since 2013. Email Eric